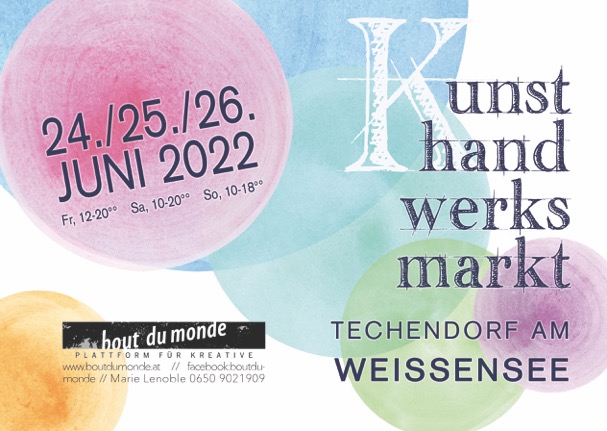 Location:  Cable car departure station – 9762 Techendorf am Weissensee (Carinthia)
Opening hours:
Fr. 24th of June 2022 – 12 pm to 8 pm
Sa. 25th of June 2022 – 10 am to 8 pm
So. 26th of June 2022 – 10 am to 6 pm
For the 23rd time, over 70 creatives from 6 countries will present exquisite handicrafts in front of the sensational natural backdrop of lake Weissensee. Individual pieces and small series, directly from the designer with the respective personal artistic signature. Between art, design, tradition and craft.
Visitors can make direct contact with the creative minds who are offering their self-designed and self-produced individual pieces and small series for sale. From garden decorations to wooden objects, ceramics, clothing and accessories, earrings and necklaces, paintings, children's toys, natural soaps and fine spirits, there is something for every taste.
The physical well-being is not neglected either, is culinary versatile, with a focus on sustainability with organic / regional / wholemeal products. The large, shady, rain-protected garden is lovingly designed with flea market furniture and invites you to linger.
Handicrafts market      Lake Weissensee                24th to 26th of June 2022
Handicrafts market      Schörfling am Attersee       8th to 10th of July 2022
Handicrafts market      Mondsee                               13th and 14th of July 2022
Handicrafts market      Bad Aussee                             5th to 7th of August 2022
Handicrafts market      Ossiach                                  12th to 15th of August 2022
Handicrafts market      Bad Ischl                               20th to 22nd of August 2022
Handicrafts market      Seeham                                  10th and 11th of September 2022
Handicrafts market      Grein                                      17th and 18th of September 2022
Handicrafts market      St. Gilgen                               24th and 25th of September 2022
Handicrafts market      Rabenstein Castle                30th of Sept. to 2nd of October 2022
Gallus market                Kremsmünster                        8th and 9th of October 2022
Handicrafts market      Perchtoldsdorf Castle            5th and 6th of November 2022
Martini market              Steyermühl                             12th and 13th of November 2022*
Handicrafts market      Weitra Castle                          19th and 20th November 2022
Advent market              Mondsee                                    2nd to 18th of December 2022*
*): Participation not confirmed / application in progress