Location: Spa park (Kurpark) – Bad Aussee (Styria)
Opening hours:
Fr. 30th of July 2021 – 10 am to 7 pm
Sa. 31st of July 2021 – 10 am to 7 pm
Su. 1st of August 2021 – 10 am to 6 pm
The pearl of the Styrian Salzkammergut. The region is enjoying increasing popularity, the idyllic lakes and the imposing rocks of the Loser shape the picture. Here, leather shorts meet cycling shorts and colorful costumes meet bikini and swimming trunks. The market takes place in the beautiful spa park of Bad Aussee under shady trees along the white gravel paths. Visitors will find fine porcelain jewelry from the region, ceramics for the home and garden, wood and textiles, fantasy jewelry, felt and loden of a special kind. As every year, the spa park Festival and the book bazaar organized by the Lions Club of Bad Aussee take place in parallel, which is very popular.
Also this year there will be nice prizes to be won at the raffle, including shopping vouchers for the craft market.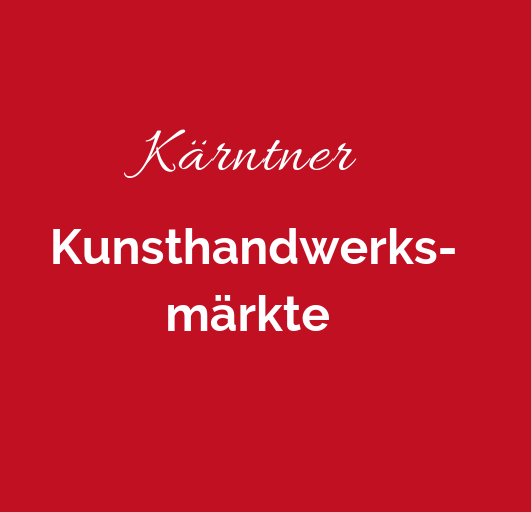 Location: Downtown (close to the shipping pier) – Ossiach (Carinthia)
Opening hours:
Th. 12th of August – 10 am to 9 pm
Fr. 13th of August – 10 am to 9 pm
Sa. 14th of August – 10 am to 9 pm
Su. 15th of August – 10 am to 8 pm
The largest handicraft market in Austria with the southern flair. Approximately 150 artisans offer the opportunity to present and sell their works and unique creations from a variety of materials. Objects made of ceramics, glass, wood, metal and jewelery, leather, textiles as well as pictures find here new owners, who take their favorite pieces often far away in countries.
The Ossiacher handicraft market does not only impress with its multitude of show stages, because musicians, showmen and other actors with music and street art are also at work here. The market also offers many games for the kids.
Handicraft market – Bad Aussee – July 30th to August 1st
Handicraft market – Ossiach – August 12th to 15th
Handicraft market – Bad Ischl – August 20th to 22nd
Handicraft market – Seeham – September 11th & 12th
Handicraft market – Grein – September 18th & 19th
Handicraft market – St. Gilgen – September 25th & 26th
Handicraft market – Frontenhausen – October 2nd & 3rd
Gallus marktet* – Kremsmünster – October 9th & 10th
Handicraft market – Hall in Tirol (cancelled / Covid-19)
St. Martin marktet – Steinerkirchen – November 6th & 7th
Christmas market – Mondsee – November 26th to December 19th
*): The final program will be updated regularly based on confirmations of our application requests.