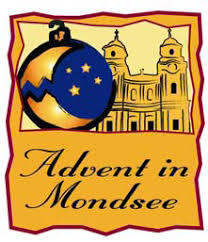 Location: cloister of the former Benedictine monastery – Mondsee (Upper Austria)
Opening hours (each Friday, Saturday and Sunday):
Friday – 3:00 pm to 7:30 pm
Saturday – 10:30 am to 7:30 pm
Sunday – 10:30 am to 7:30 pm
and on Wednesday 8th of December (bank holiday) from 10:30 am to 7:30 pm.
The Mondsee-Land turns into Advent in a fairy tale landscape with many opportunities to tune in with mulled wine and delicacies from the region, crafts, art and Christmas music. For many years the Advent in Mondsee enchants its visitors with its Advent market in front of the basilica and its traditional Christmas market in the cloister of the former monastery of Mondsee.
The centerpiece of the "Advent in Mondsee" is the weather-protected Gothic cloister of the former Benedictine monastery, where every weekend about 35 artists and craftsmen present their work and offer their gift ideas. Domestic products and handicrafts have priority there.
Handicraft market – Hall in Tirol (cancelled / Covid-19)
St. Martin marktet – Steinerkirchen (cancelled / Covid-19)