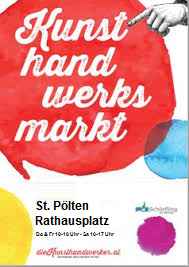 Location: Town Hall Square (Rathausplatz) – St. Pölten
Opening time:
Thursday 7th of May – 10:00 am to 6:00 pm
Friday 8th of May – 10 am to 6 pm
Saturday 9th of May – 10:00 am to 5:00 pm
For the 14th time the arts and crafts market is taking place in the vibrant capital of Lower Austria. In the center of St. Pölten, artisans from Austria and neighboring countries are once again transforming the town hall square (Rathausplatz) into a colorful market backdrop. The market square is surrounded by guest gardens, a babble of voices, happy smiles, plus the spring sun, the ideal place to meet friends, chat, forget everyday life.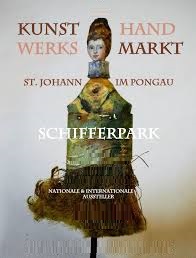 Location: Schiffer Park – St. Johann im Pongau
Opening time:
Saturday 23rd of May – 10:00 am to 6:00 pm
Sunday 24th of May – 10:00 am to 6:00 pm
This year national and international artists and artisans are exhibiting again in St. Johann. Approximately 60 to 65 exhibitors who offer something very special with their products. Everything is offered to beautifies your own home or spices up your garden: glass art, ceramics, wood, metal, handmade jewelry, pottery, fashion, baskets, toys and much more. Behind the scenes top bands with jazz, swing and blues, with country and western music, rock'n roll and more, care for excellent entertainment!
Handicrafts market – Schörfling / Attersee – July 10th to 12th
Handicrafts market – Mondsee – July 15th & 16th
Handicrafts market – Bad Aussee – July 24th to 26th
Handicrafts market – Ossiach – August 15th to 18th
Handicrafts market – Bad Ischl – 21 to 23 August
Handicrafts market – Radstadt – September 5th & 6th
Handicrafts market – Seeham – September 12th & 13th
Handicrafts market – Grein – September 19 & 20
Handicrafts market – St. Gilgen – September 26th & 27th
Handicrafts market – Hall in Tirol – October 17th & 18th
St. Martin market – Steinerkirchen – November 7th & 8th
Christmas market – Mondsee – November 27th to December 20th
*): The final program will be updated regularly based on confirmations of our requests to participate.